Your sponsorship of the Gala provides you with a superlative marketing opportunity and allows you to increase your relationships in the minority market segment. The 100 remains committed to its community partners, as our goal is to provide high-visibility with far-reaching impact.
100 Black Men Gala 2017 (Download PDF)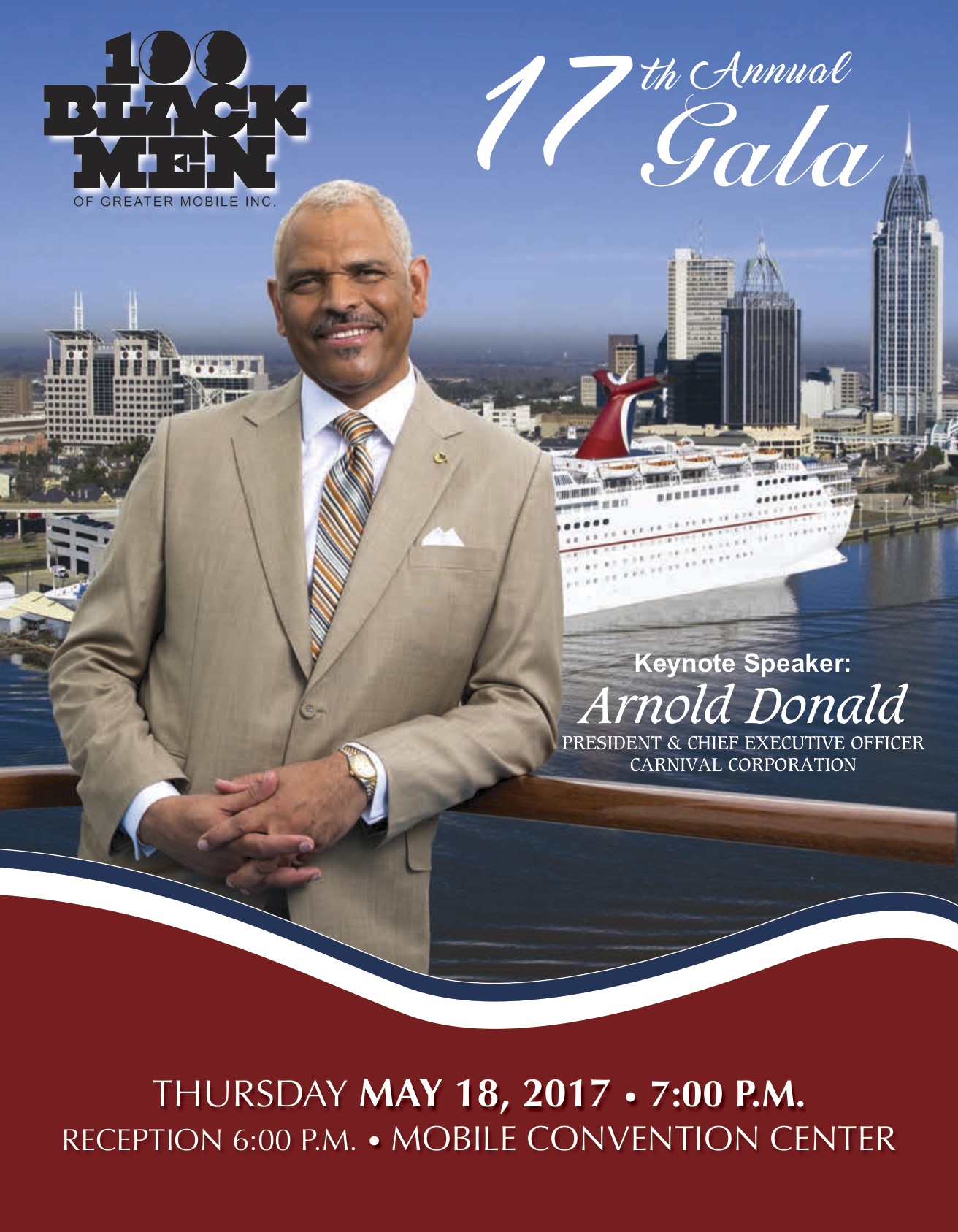 You are invited to attend:

100 BlackMen 17th Annual Gala MOBILE CONVENTION CENTER

Thursday, May 18th, 2017 | 7:00pm | Reception 6:00pm

The 100 Black Men of Greater Mobile, Inc. will host its Seventeenth Annual Gala on Thursday, May 18, 2017 at the Arthur R. Outlaw Convention Center. The purpose of this event is to raise funds for the 100's Scholarship Fund and bring awareness to the 100's Four for the Future community involvement. The 100 Black Men of Greater Mobile, Inc. looks forward to your support as we provide young people with mentoring and educational opportunities that have a lasting effect in Mobile and surrounding communities.

The 2017 keynote speaker for the Gala will be Mr. Arnold Donald with Carnival Corporation.

Arnold Donald is President & Chief Executive Officer of Carnival Corporation & PLC, the largest travel and leisure company in the world. Their portfolio of ten cruise brands -- Carnival Cruise Lines, Holland America Line, Princess Cruises, Seabourn, AIDA Cruises, Costa Cruises, Cunard, P&O Cruises UK, P&O Cruises Australia and Fathom are based throughout North America, Europe, Australia and Asia. Together these brands maintain a fleet of over 100 ships and serve more than 11 million guests annually. Carnival Corporation & PLC also operates Holland America Princess Alaska Tours, the leading tour company in Alaska and the Canadian Yukon with 10 hotels plus rail and bus services connecting guests with the northern interior. Traded on both the New York and London Stock Exchanges, Carnival Corporation & PLC is the only group in the world to be included in both the S&P 500 and the FTSE 100 indices.

Mr. Donald has been President & CEO of Carnival Corporation since 2013; prior to that he served on the board for 12 years. He currently serves on the board of Bank of America Corporation and Crown Holdings, Inc.

The 100 Black Men of Greater Mobile, Inc. values your cooperation and support. Your commitment and involvement as a sponsor this year will be greatly appreciated. Please note the sponsorship levels and commitment from the enclosed material.

This year's Gala promises to be a truly momentous event and we hope that you will join us by sponsoring this worthy cause.


17th Annual Gala PDF Downloadable